Lighten The Load When Doing Your Business SEO
If you have a business website then you would be familiar with the practice of submitting your site to business directories. These are directories similar to the Yellow Pages and the Thomson Local, however they are purely web based.
One of the main advantages of getting your website listed in the directory is the SEO benefit. Often business directories allow your listing to contain the URL of the site along with relevant business information, and once indexed by Google this will pass authority to your site helping your websites ranking. Also having your listing indexed in a matching category gives your site added relevance and helps improve association with your target niche.
So then the simple question is how to go about it, and how to do it best.
First off its always best to have a little search around and see what directories you can find on your own. In this example I will be using a food based site:
Loading up Google I start by simply searching for 'food directory'
First result comes up as http://www.foodshetland.com/
The aim of the site is obviously to attain a link, usually through a submission page. Looking at the site there is a submission page for the A-Z directory, but it looks like its a paid listing. More often than not a paid listing is not worth the while, at least for this example we are looking for free business directories.
Second result is specifically food outlets, restaurants and the like. This is going to be a submission for a web based food site so no physical outlets, so we can skip this one straight away.
Third result is again a paid directory, so using this method we aren't getting great results.
I then tried changing my search term, hoping to find the type of directory we are after. For this I started with '"Powered by: php Link Directory" food'

I used this phrase because the first part is the type of software used for the directory, this is similar to how you could search for '"Proudly powered by WordPress"' to find a WordPress blog. After that dropping in a keyword should return directories which are relevant to the food industry.
Straight away the first result is a good one, seems like a food and beverage directory with the option to add your own URL on the page. This specific site has a policy which requires a link back to their own site before approval is granted, this can be common for directories in certain niches so you have to see.
I started to think about how you could simplify this process, I mean after all you are going to have to repeat it quite a lot because you want as many listings as possible. If you are going out manually finding all these directories, then typing in your details over and over, its going to take you a very long time. I started searching round and I found some software called PHP Dir Submit >
This software is actually really interesting, and they give a free trial so I had a try and I was very impressed. First off its all website based, so its not software that you run on your computer, this is a real bonus for me as I already have a website. Along with being able to run it for yourself, it has the flexibility to offer free accounts which give people the opportunity to trial the software. If you are an SEO company then this would be a great tool to have on your site!
Signing up was a simple process, and once you are logged in, its very easy to set up your website, enter in your details and start a campaign.
Starting the campaign was as simple as choosing your website (entered in earlier)  and clicking Start.

Once started the system will start to process through the preloaded list of website directories. You don't actually get to see the whole submission form, but it will give you a summary of your submission details, and then details on the current site. Because many directories are so custom it would be very hard to create a tool which can do it automatically with a high rate of accuracy.
Commonly you will only be required to choose a relevant category, but on some there is also CAPTCHA forms etc.
Along with directory submission, the software also allows you to submit articles, and bookmarks…its really powerful!
As a user its a great piece of software which is clean and easy to use, I would recommend it to anyone.
As a site owner, its unbelievable. Like I said earlier, if you ran an SEO company and had this tool on your website then it would create great added value. Potential customers could use the software on a limited basis, and you could be there to offer support while giving the opportunity of up selling.
The site does have a demo set up so you can test out the admin control panel, and they also give out 300 free submissions when signing up on the Demo as a user, so give it a go and see what you think!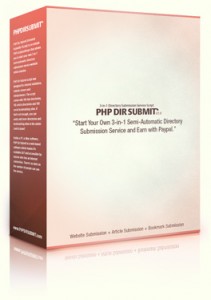 http://www.phpdirsubmit.com/