Satellite VS Dialup, Internet Choices in The Countryside
Country living may be a dream life for many people, but it can become a nightmare for others. In most cases, you do have access to electricity and telephone service. The infrastructure has been in place for generations to provide power to some of the most isolated homes or communities. However, other services may not be available. For instance, most people who live in the country have their own water wall and septic tanks. Aside from access to paved roads, there is little to worry about in the country – unless you are a techie. In that case, get ready to face some big obstacles.
Dialup Internet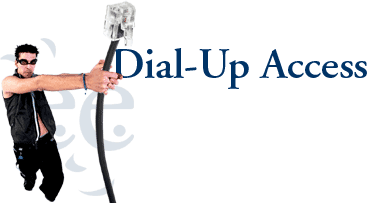 That whistle, warble, and buzz that signifies dialup internet was once a common signal of modern convenience. Now, it's an echo of archaic invention. Entering the internet via dialup is comparative to merging, on roller skates, onto a busy interstate highway. However, this is the only access to the World Wide Web for most people who live in rural areas. That is, until they discover satellite service. There are several great things about satellite service, but fast internet is one of the best. Satellite service is not restricted to a wire or cable. Most cable companies don't provide service to remote or even rural locations. They don't consider it necessary to build an infrastructure for one lowly customer. Satellite signals, on the other hand, are accessible from any place in the world. There are several high quality satellite service providers who can "hook you up" with satellite service, so that you no longer have to depend on dialup for your internet.
Another benefit of satellite internet is the fact that it frees up your telephone line. You no longer have to dedicate one entire phone number for the internet. Give it to one of the kids, or remove it from your phone bill.
Pricing
Each satellite service provider has its own pricing system. Quite often, the company that installs your service will actually give you the service free, since you are renting the equipment from them like the satellite receiver. There are several options that you can have with your satellite service. You can get your telephone service switched over to the satellite provider, and you can get television, as well.
The pricing on your satellite package will also be influenced by how many receivers you want in your house. This will be determined by how computers you use, and their location in your house. If you elect to switch to satellite TV, you'll need receivers to feed the satellite signal to each TV.
Installation
Installation of satellite internet is quick and easy. The dish will be installed in a spot where it has unrestricted access to the feed from the satellite, and the cable will run from your dish to the house. From there, it is installed much as cable TV would be.
So, what are you waiting for? Sign up for satellite internet today! It's much better than dialup, and quite affordable.